Motor Vessel Balmoral .
Her place in the social and economic history of Bristol, South Wales and the Bristol Channel.
<![if !vml]>

<![endif]>
Balmoral is the last remaining example of a long line of Bristol & Cardiff based excursion steamers that ferried day passengers to and from the seaside towns along the Bristol Channel.  This ship alone has carried over 2,500,000 passengers since she was built in 1949 and is now the last representative of a major social enterprise and commercial operation, P & A Campbell Ltd – the 'White Funnel Fleet', based in Bristol for almost 100 years.  At a conservative estimate, some 50 MILLION passenger journeys were made on company ships, making the line one of the largest local steamship companies in the World, almost all based in Bristol Docks. They owned a total of 31 ships during that time, were one of the first commercial hovercraft operators and never lost a passenger life or a ship during peacetime. This record is unrivalled and 'P&A' became a household name from the late Victorian era until well into the modern Elizabethan age.  On a summer weekend in Bristol, the queues for Campbells steamers would reach from the pontoon landing stages opposite the old Bristol Rocks Railway to Jessop Lock at Cumberland Basin and the sight of hundreds of passengers waiting to board at piers and harbours all along the Bristol Channel coast was common.
A Campbell ship, the first P.S. Waverley came to the Bristol Channel from Scotland in 1887, chartered by a group of Bristol business men to provide day trips and excursions for people in Bristol and on both sides of the estuary. Initially on charter from the Campbell brothers Alec and Peter who ran passenger excursions on the Clyde, she was back the following year but under the management of her owners and operated by entrepreneur and seafarer Alec Campbell. The operation was a success and Peter Campbell followed in 1891. The brothers had the paddle steamer Ravenswood built for the Bristol Channel service and in 1893 the company P & A Campbell Ltd was formed. The stage was set for 90 years of operation.
Soon white funnelled steamers were carrying holiday makers and day trippers on coastal journeys and across the Severn Estuary to and from Wales.  By the First World War the company had grown to a fleet of purpose built fast and luxurious paddle steamers transporting hundreds of thousands of people from the towns and cities of the Bristol Channel.   Each able to carry around 1000 passengers, they operated daily during the long Summer season,  offering a day out on the sea with silver service in the restaurant, gleaming brass and varnished wood, all for a very affordable price.
<![if !vml]>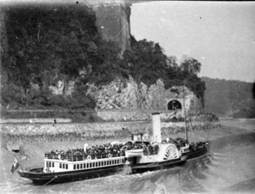 <![endif]>
P.S. Ravenswood.   Between 1888 and 1980 Bristolians and Welsh  passengers flocked to join Campbell's steamers.
'The People's Liners'  - a TV documentary of  that name was made about the line in 2017 -  Campbell Steamers were known as  the 'White Funnel Fleet'  and became the major method of coastal passenger transport in the South West and South Wales. Other companies were unable to compete and despite fierce competition for trade, Alec Campbell progressively bought out his competitors and their ships, becoming renown for low cost, comfortable travel, silver service, well stocked bars, uniformed professional crew and magnificent comfortable, modern steamers.  All this was available to those who could not otherwise afford anything remotely like the luxury offered or even to travel to other seaside towns and Campbells became the only operator to offer the service. 
After 1914-18 War service when a number of ships were lost on minesweeper duty, the company rebuilt its fleet with powerful modern paddle steamers and again carried millions of passengers on day trips, also providing a regular daily scheduled summer ferry service from South Wales to Somerset and Devon. The ships provided efficient and inexpensive transport between coastal towns and provided a day at sea for those who would never otherwise have the chance to leave the industrial towns of Victorian and Edwardian Britain.
As well as the upper Channel and English resorts, a regular service was introduced between Swansea and Ilfracombe and this was soon extended along the Gower coast to include Tenby. It was the first time that regular and affordable transport had been available between South West Wales and the English coast and it proved incredibly popular. Of equal importance for passenger numbers and company profits, the ships had well stocked bars that were not subject to licensing conditions once they cast off.  Working men and especially miners and steel workers could visit England, especially on Sunday when Welsh pubs were closed, and imbibe from the moment the mooring ropes were cast off, disembark in England to visit the seaside taverns, then reboard and continue until the ship arrived home in the evening.   It is said that the tracks of the steamers can be traced by the empty bottles littering the sea bed!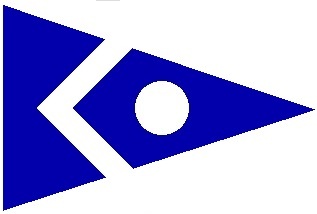 The P & A Campbell house flag, flown by all the White Funnel Steamers for over 100 years.
For many years the fleet was based in Bristol but also had a presence on the South Coast.  The head office was in Bristol, overlooking Cumberland Basin ( now a dry cleaning outlet ) with a major engineering facility at Underfall Yard that provided employment for seafarers and maintenance staff.  The vessels were serviced and repaired there each Winter and in the 1920's and 30's it was said that you could cross the harbour at Baltic Wharf during the lay-up by walking from one Campbell steamer to the next.  In addition to direct employment, associated trades and local firms provided skills and facilities for the ships in winter and their passengers and crews during the Summer operating  season, this being a major commercial, economic and social benefit for Bristol and for tourism in the South West and South Wales. Several thousand trippers a day descending on small coastal towns did wonders for the local economy and the ships were the lifeline of many seaside towns bringing in day trippers and holiday makers.  
After the Second World War and having several ships sunk on active service as mine sweepers and anti aircraft platforms, the company again renewed and reconditioned its fleet, building the magnificent Bristol Queen at Charles Hill & Sons in the City Docks and adding her sister Cardiff Queen and Empress Queen, the latter a modern turbine powered propeller driven vessel intended to start passenger services across the English Channel.  However once post war austerity ended, the private car began to take over as the chosen method of transport and with the opening of the Severn Bridge trade began to fall away. Package holidays and cheaper air fares became available and what had once been the marine equivalent of Easy Jet, Channel Airways or Ryan Air from 1887 until 1965 was no longer economic.  
<![if !vml]>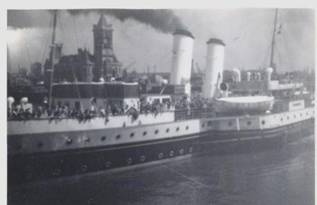 <![endif]>
1948.  Cardiff Queen leaving Cardiff and packed with passengers for a day at sea,
<![if !vml]>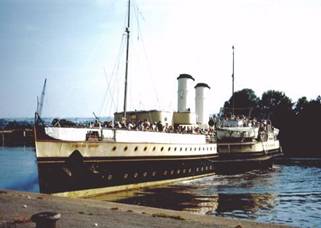 <![endif]>
while a loaded Bristol Queen leaves Bristol in 1965.
From a household name and a traditional day out for Bristolians, the Company's fortunes declined, the paddle steamers burning expensive fuel oil and powered by huge inefficient steam engines were splendid, but quite uneconomic. They were unceremoniously scrapped,  the fleet being reduced to three smaller diesel powered ships, all purchased second hand from the original owners.  Finally in the mid 1970's  the other vessels reached the end of their working lives and there was only one ship left to carry on the tradition – the motor vessel Balmoral.
<![if !vml]>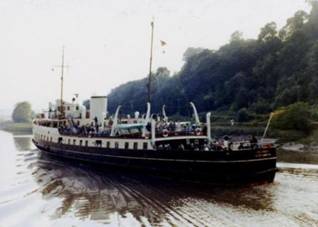 <![endif]>
Approaching Bristol in 1975 – a full compliment of passengers but now the only remaining Bristol passenger ship.
Balmoral, built in 1949, could reasonably have been pensioned off but she was very strongly constructed and well maintained by her original owners the Isle of Wight 'Red Funnel' company.  She soldiered on with a dedicated but aging crew until 1980 when a series of wet and windy summers, the earlier collapse of the key landing stage at Clevedon Pier, demolition of the pontoon landing stages in the Bristol Avon and the progressive loss of other facilities along the Bristol Channel made scheduled passenger services uneconomic. It was death from a thousand cuts. She was withdrawn from service and sold for use as a floating pub in Dundee. Campbells went into receivership.
The pub venture failed but Balmoral was saved from the cutting torch in 1985 by the enthusiasts who had saved the last seagoing paddle steamer Waverley ten years earlier.  Balmoral was purchased as a backup ship for the famous paddle steamer, refurbished, fitted with new efficient engines thanks to a major Heritage Lottery Grant and given updated facilities.  She came back to the Bristol Channel for a new lease of life where she served loyally until 2012 as paddle steamer Waverley's cohort operated by Waverley Steam Navigation Ltd, and owned by the Waverley organisation's charity,  again performing the role as Bristol's last passenger ship serving the residents and local communities of the Bristol Channel, South Wales and Gower Coast.
In 2013 the operating company decided to concentrate on Waverley.  Balmoral was always the second ship to the paddle steamer and was again laid up in Bristol.  Her future looked bleak and once again she was almost scrapped but having been maintained informally by her old crew and dedicated enthusiasts, a new charity was set up to preserve her for future generations and she was purchased for £1 from her previous owners.  After a further two years in lay-up, substantial grant aid and a huge fund raising effort, she returned for three glorious years, cruising not just the Bristol Channel but the whole of the UK coastline carrying passengers once more.   Now owned by the MV Balmoral Fund Ltd and operated by a new company 'White Funnel Ltd' in deference to her history in the Bristol Channel, with the office based in the heart of Bristol at Prince Street, she sailed between  2015 and 2017.
The project was supported by a large number of volunteers around the UK and Northern Ireland and in Bristol she also formed a support group for ex merchant seamen, retired engineers and shipping enthusiasts who gave their all to keep the operation running, both during the season and in Winter when the ship was refurbished and serviced by unpaid enthusiasts before going to dry dock for professional work that was not possible while afloat. Beautifully presented with gleaming brass and fresh paint she looked stunning and again became a firm favourite with holiday makers, enthusiasts and anyone who wanted a sea trip along the coast. The operating company promoted educational and social activities and Balmoral drew large numbers of young people for educational outings as well as coach parties and coastal cruising enthusiasts who were again able to visit the smaller destinations along the UK coastline.  This in turn brought an increasing amount of tourist trade to some of the smaller and less prosperous towns and resorts that had suffered badly when the ship had previously been withdrawn from service. On so many levels Balmoral again brought fresh life into the coastal communities that were bypassed by major tour operators.
<![if !vml]>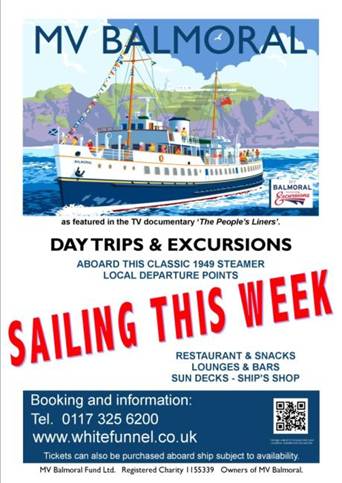 <![endif]>
An advertising poster from 2017.
 The efforts of the 'Balmoral Family' as the volunteers became known were unsurpassed.  A large number of devoted enthusiasts, gardeners, aircraft designers, school teachers, publicans, mechanics, accountants, welders, bank managers, ex Forces, unwaged and retired Merchant Mariners put their lives on hold for three years to keep the ship running.  While she had very professional and paid officers, crew and office staff, everything else was done by volunteers. There was an army of fundraisers, donors, helpers, linesmen, pier hosts and publicity agents who literally worked round the clock to keep her at sea, collecting tickets, delivering food and stores to out of the way places at unsocial hours, arranging locking and harbour schedules, putting up posters in towns and remote seaside villages, driving half way across Europe for spare parts, making radio and TV appearances and organising the queues of passengers on piers and quaysides.  The work done by Balmoral's supporters was incalculable and kept the ship sailing, but despite all the efforts it was not to continue. 
<![if !vml]>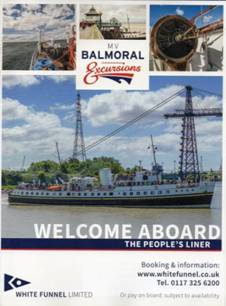 <![endif]>   <![if !vml]>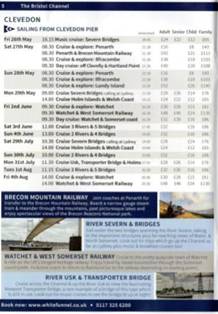 <![endif]>
Advertising leaflet from 2017 showing some of the trips Balmoral ran from Clevedon.
The poor weather of 2016 and 2017, several major breakdowns,  the withdrawal of landing facilities at key points together with the sudden last minute withdrawal of permission for her to cross to the Isle of Man made the business model uneconomic. The final blow was at Bristol when a rope dropped into the River became entangled in a propeller and damaged the machinery.  Coming at a time when bookings were increasing and the efforts to publicise the ship and her sailings were starting to bring good results, this was heart breaking.  Although repaired and remaining in service until the end of the season, an additional complication was the need to renew Passenger Certificates ( the marine MOT ) every 5 years. This fell due at a time when regulations had just changed and a 70 year old ship was now expected to meet modern standards.  The amount of money needed after a disastrous season when 50% of sailings had not taken place due to bad weather and breakdowns made it impossible to continue.  The emotionally difficult decision was made by the Trustees that she would cease operation, the crew and office staff were laid off and the ship returned to Bristol on a care and maintenance basis, still to be used as a static venue for educational activities and for low key social events, on board lectures and meetings to assist in fund raising.  For the foreseeable future Balmoral would not operate but the intention was to keep the ship in good working order so that she could move under her own power and when the time came, go back into passenger service.
Balmoral  now resides in Bristol Harbour, still owned by the charity and looked after on a care and maintenance basis by the same team of dedicated enthusiasts and retired professional mariners.  She is fully operational but unable to carry passengers at present due to changed rules relating to passenger certificates for smaller ships.  Fundraising and upkeep are ongoing with the aim of returning her to passenger service once sufficient funds have been raised to make the required changes.  In the meantime Balmoral is used for education as her vintage machinery, navigation bridge and spacious public rooms are popular for educational visits, school outreach activities and as a floating classroom.  She is also used for social events as well as filming and  provides an unseen resource as  a centre of excellence for traditional marine trades, keeping alive skills such as steel work, engineering and woodworking that have largely been lost with mass produced ships and electronics.  The ship is in 'warm layup' with all systems operational and the main engines are run monthly together with the ancillary equipment. No less than three of her former Chief Engineers look after the ship, with around 20 weekly volunteers and many more who perform specific tasks when requested.  All types of maintenance and general engineering tasks are undertaken. The latest big jobs as at November 2020 are the replacement of hand made hardwood deck seating and the overhaul of one of the ships main AC generators as there is no shore power available at her berth and the ship relies on a mix of solar and diesel power to generate electricity. New steel has been added, internal seating replaced to the original 1949 pattern and large sections of the ships decks have been resealed.
<![if !vml]>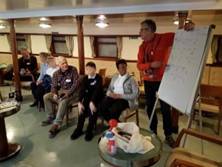 <![endif]><![if !vml]>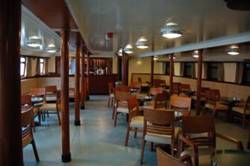 <![endif]>
<![if !vml]>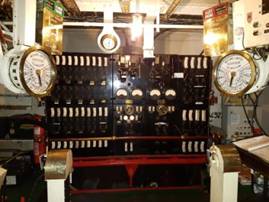 <![endif]><![if !vml]>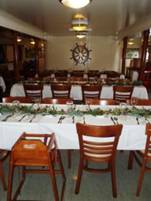 <![endif]>
Still maintained and cared for while not in service, the ship is also used for educational purposes.
Balmoral is the last of the line in many ways.  The only remaining member of the historic Campbell's fleet and  the last Bristol registered sea going ship of the hundreds once in service.  Built in 1949 she retains the pre war methods of construction but marks the change from steam to diesel power.  She is the last of her type as a steel riveted passenger ship, among the first seagoing ferries to use high speed diesel engines, but also one of the very few remaining traditional vessels that still use original pre war style equipment and methods of operation. She is absolutely unique having served for 70 years, acted as a Royal Yacht, seen the arrival and demise of ships such as the Cunard Queens and  the huge social changes that transformed leisure from catching the steamer for a day trip at sea to low cost package holidays abroad. She was British National Historic Ships flagship for 2017, has starred in many films including Stan and Ollie and been the subject of various documentaries.  Modified and converted over the years, Balmoral still retains many of her original features, the varnished wood, the brass and the smell and atmosphere that only comes with an historic ship that is fully operational.
Like most other charities the owners have been hit hard by Covid but the ship is still open for socially distanced maintenance volunteers in Bristol ( excluding lockdowns ! ) and based opposite Hill's old shipyard on Hotwell Road. Unfortunately the social events used to fund repairs have been cancelled but they have been replaced with remote learning sessions using the Internet so that schools and young people can still have access to the ship and her history although at greatly reduced income levels.  She still retains the important role as a hub for her many enthusiasts and volunteers for whom the ship is an important aspect of their daily life.
The Charitable Trust is always looking for sponsors, donors and new volunteers to help maintain and run the ship – anything from varnishing woodwork, heavy engineering and electronics to publicity, advertising fundraising and administration.
If you or anyone you know who would like to join the project and help on Tuesdays and Fridays in a very friendly and enthusiastic team, known to its members as the 'Balmoral Family', please contact us.
<![if !vml]>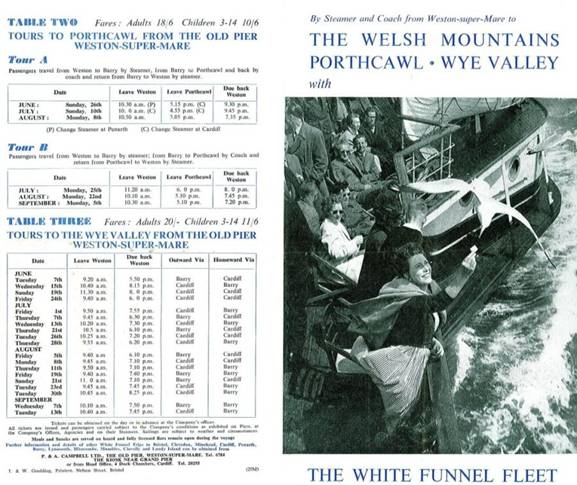 <![endif]>
Advertising and fares 1950's style.
<![if !vml]>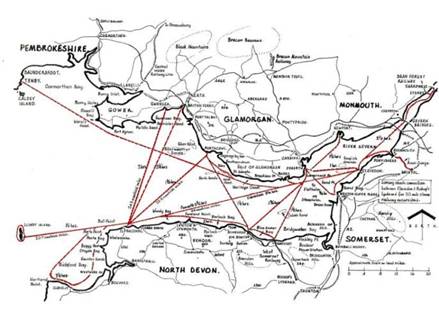 <![endif]>
Balmoral was operating the Campbell  coastal routes 65 years later. An 'info-map' created by one of the volunteers and available to her passengers in 2015-7.
<![if !vml]>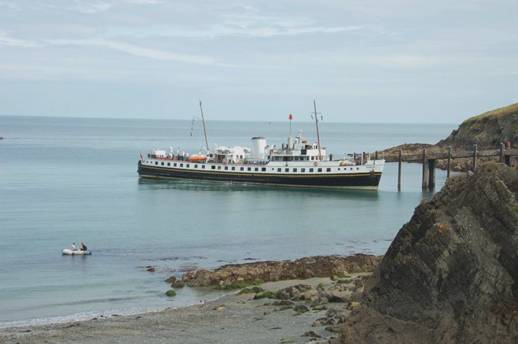 <![endif]>
Balmoral at Lundy Island.
<![if !vml]>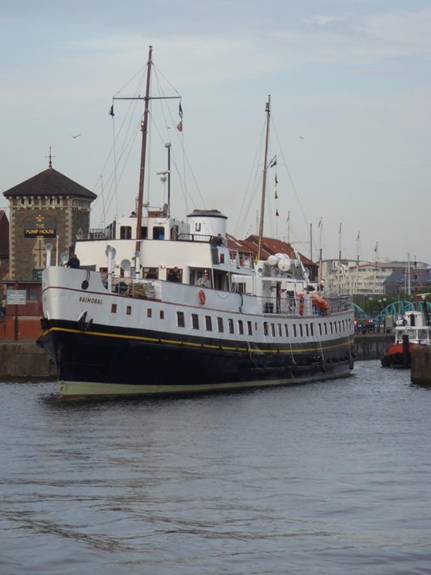 <![endif]>
Junction Lock - Bristol 2016