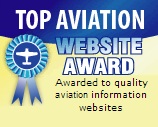 CHANNEL AIRWAYS was based at Southend Airport. The operation was started by an RAF Squadron Leader after the war as East Anglian Flying Services Ltd and was the first airline to offer cut price high density flights that were convenient and affordable. The aim was to make flying as cheap as travel by sea - and it succeeded. The airline began using a demobbed light aircraft and by the time it folded in 1970, Channel had been a major player in the domestic, cross Channel, European and charter business, running BAC 111 jets, Tridents and Viscount turbo props plus the ubiquitous Doves, Herons, Dakotas and the Vickers Viking, a metal bodied development of the Wellington bomber. They also operated Bristol Freighters as a passenger variant known as the Wayfarer. The former was intended for car ferry services although the airline never actually carried vehicles, this being done by another Southend airline Air Charter Ltd. Channel's main claim to fame in later years was that it began the low cost package tours as we know them today, being the fore runner of Ryan Air, Easyjet and the other low cost carriers .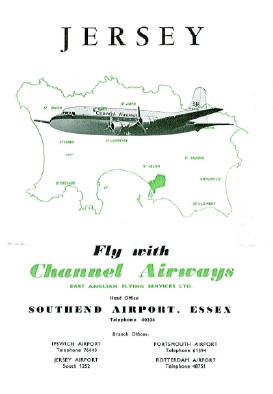 The 1962 in flight Brochure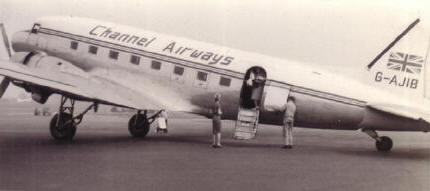 Many of the Channel fleet were ex BEA 'Pionair' Dakotas, often in the same colour scheme with only a change of operator's name.
However, in the 1960's Channel was mainly a Summer airline, most aircraft being laid up during the Winter although by 1962 they were operating a daily service to the continent and the Channel Islands. During the holiday season planes ran almost non stop at full capacity flying the cross Channel and Channel Island routes as well as operating what was virtually an aerial bus service along the South Coast, using grass airstrips and small airfields that the other carriers ignored. It really was a people's airline, dedicated to a low cost, no frills service.
The managing director was a far sighted businessman. As well as holding the Air Force Cross for his services as a transport pilot and wartime test pilot, he had ideas we take for granted today but revolutionary in the 1960's. Advertising stressed the benefit of flying from Southend, claiming it was faster for anyone living in South London to catch the electric train to the South Coast and fly with Channel rather than fight their way through the traffic to Gatwick or Heathrow. Channel introduced coach/air link services between the main southern towns and their airfields, serving places as far away as Ipswich, Reading and Eastbourne. The airline took a lease on Ipswich Airport and developed the site, using the areas between the runways as farmland, growing crops on 165 acres of what would otherwise have been redundant grass needing regular maintenance. ( This was in the days when birds were not such a danger to aero engines!).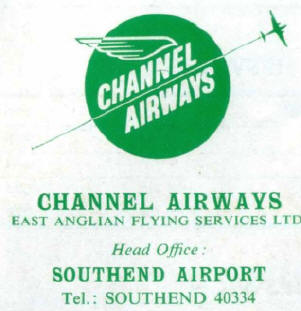 Channel was a happy airline, full of larger than life characters many who had come into aviation during the War, and owned by a flying enthusiast, described by his secretary as a 'true gentleman' who would think nothing of giving his staff a lift to work in the Rolls on a wet day, ( to their great embarrassment!) and helping out airside heaving baggage into aircraft as and when needed. There is still a tremendous affection for the Airline from ex-employees and staff. It had its moments, like any organization, but there was nothing else quite like Channel Airways. They loved it.
However the airline was in business to make money. Established policy was to minimize capital employed, and hence fares, by the use of older planes which were operated intensively, often without even fully repainting them! Seating density was the highest for any airline at the time, but routes were short and passengers were not in the aircraft for long. On occasion they wodul even strip out the toilet to put in an additional row of seats for a busy schedule ! In the case of the aircraft involved in this story, the plane had been purchased as a near write off, and repaired using parts from another crashed Dakota, although this happens even today - we just don't get to hear about it! However the aircraft flew many times afterwards and there is no indication at all that this played any part in events.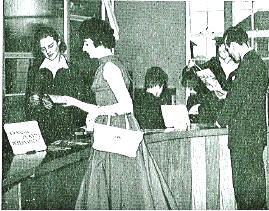 The Southend Airport Reservations Office (from the 1962 in flight brochure )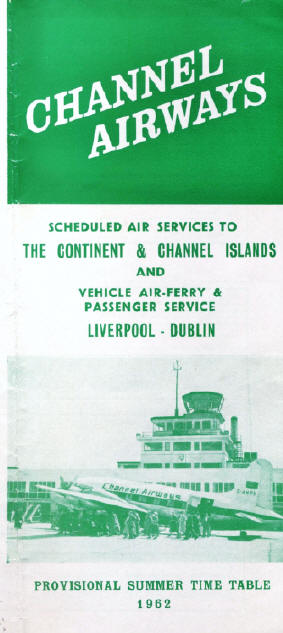 Channel did have a number of incidents and crashes over the years, but nothing like this one. Given the type of operation and the intensity of the take off and landing cycles, together with the primitive nature of airfields and facilities, their safety record was very, very good. Apart from this accident, they had very few injuries, a fatal accident when a fitter was working under an aircraft when the landing gear collapsed, and they lost two passenger aircraft at Portsmouth on the same afternoon when both aquaplaned on wet grass and ran off the runway. However the Ventnor incident was the only fatal crash or loss involving passengers.
To have this superb record during a period when airlines were pushing the boundaries of operating procedures stands well alongside the National flag carriers of the day who did not operate as intensively and had far more money for non essential maintenance, better facilities and higher rates of pay. Channel Airways planes may have been well worn, the seat pitch may have been small and operations intense, but they seem to have been well maintained where it mattered. However in common with many airlines at the time, and even today, there seems to have been something of a 'press on regardless' attitude by the management, and possibly a dislike of bureaucracy at a time when this was beginning to invade the air transport sector.
More concerning, as we shall see later , was a willingness to operate in marginal weather conditions - Channel would still be flying when all their competitors were grounded. This may have made economic sense with low fares and operating margins, but it did not please the authorities and the weather minima - at what point flights were cancelled due to poor visibility and conditions - were the subject of an on-going discussion at the time of the crash. Indeed, poor weather formed a major aspect of the accident enquiry and was a prominent feature in events.
However we must not apply operating standards from the 21st Century to ex military transport planes in 1962 which were providing low budget fares when most aviation was still for the wealthy - and hind sight is always useful.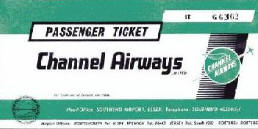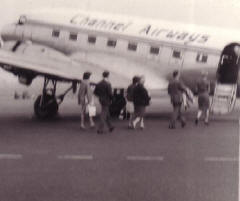 An unknown Dakota on an unknown airfield - these two photographs from an unknown source epitomise the excitement of 1960's air travel. Notice how the passengers, although on a low cost flight still 'dressed' for the journey.