The crew of the plane were flying enthusiasts. The Captain - a Belgian aristocrat by birth, although he never made mention of the fact or pulled 'rank' - had flown the route over 90 times previously. He learned to fly in 1950 and had over 7000 hours flying time in his log book, 600 as pilot in command on Dakotas. Everyone who flew with the Captain will testify to his charm, generosity, courtesy and professional approach. He left his mark on many colleagues and was a devoted family man. Even today, many years later, those who knew him speak of him with deep affection and as someone special.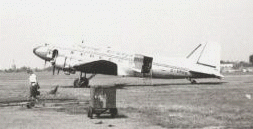 The First Officer was new to the Airline, but an experienced RAF Transport Command pilot with over 4000 hours. Living in Southend on Sea, the home of Channel Airways he was a motor sport enthusiast, had tried a career in accountancy after leaving the Services, but flying was in his blood and when a chance came to join Channel, he took it.
Both pilots had young families and a very steady, professional approach to flying passenger aircraft. They were fully qualified to fly the plane in all conditions and massively experienced in the aviation industry. They were neither inexperienced nor reckless as one newspaper claimed. One journalist, presumably looking for a sensation and regardless of the distress caused, tried to imply that there had been a 'race' between two planes of the same airline. The other aircraft, a de Haviland 'Dove' was scheduled for the same destination and took off shortly before the Dakota. This was carrying passengers while Zulu Bravo had passengers and freight; overspill from the delays caused by fog, and Channel Islands daffodils and irises destined for Covent Garden Market. Who went on which aircraft was a matter for fate to decide.
The stewardess learned French at night school so that she could get a job with the airline. All three were respected and well liked by colleagues. They come over as being a thoroughly nice, reliable and professional crew who would do all they could to help their passengers, but would not break safety rules - as was shown on the outward flight, details of which will follow.
Like something from a Greek tragedy, none should have been flying that day. Due to the delays that had built up because all flights had been grounded by the dreadful weather, all three had been called in at the last moment to operate an additional service in an attempt to return stranded passengers as soon as there was any chance of flying. The Pilot and Stewardess were on standby, and looking forward to a day off.
The Stewardess didn't really want to fly that day - she was about to be married in Paris and had lots to do for the wedding.
The Co-pilot was scheduled to fly on a 'Viking' but was swapped at the last moment to the Channel Islands run. In each case the telephone call from the Airline would spell disaster and shatter the lives of their families. However, there may already have been a 'mind set' in place - an extra flight, stand by-duty and stranded passengers needing to get home.
Perhaps the beginnings of the tragedy were in place even before the phone rang.